About Us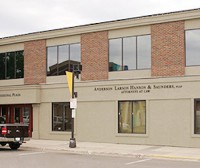 Willmar, MN Attorneys Provide Comprehensive Legal Representation in a Wide Range of Practice Areas
Serving Central Minnesota since 1892
Anderson Larson is a full-service, multidiscipline law firm dedicated to providing quality services to residents and businesses throughout the Willmar and West Central area, including Benson, Bird Island, Hector, Litchfield, Montevideo, Olivia, Paynesville and other surrounding communities. We have extensive experience in a wide range of practice areas, including personal injury,workers' compensation, real estate, estate planning,family law and business law. Our time-tested approach and strategies allow us to meet your specific needs while offering multiple options to control costs.
Cities include Appleton, Madison, Canby, Marshall, Cottonwood, Clarkfield, Montevideo, Granite Falls, Clara City, Kerkhoven, Glenwood, Morris, Olivia, Spicer, Willmar, and the surrounding.
Seasoned attorneys motivated to help solve your legal problems
Anderson Larson is the oldest and largest firm in our area. We credit our firm's longevity to keeping the focus where it needs to be, providing personalized attention to clients and efficiently solving their legal problems. Whether you need an attorney to help you with a family law issue, to get compensation after an injury or to resolve a business conflict, Anderson Larson works diligently to achieve the best possible outcome for you by:
Being flexible All our attorneys are licensed to practice law in all Minnesota state and federal courts. We are also licensed to practice law in a variety of other states, the federal Court of Appeals and the First Circuit, Washington, D.C.
Honoring our history Anderson Larson was established in 1892, and our attorneys draw from more than 130 years of combined experience. We continue to grow by providing high-quality, cost-effective legal services.
Providing comprehensive service Each of our attorneys has significant experience and focuses on certain practice areas. We can handle just about any legal problem you face.
Paying close attention to you We tailor our approach and legal strategy to meet your specific needs and stay attuned to your goals throughout the life of the case. It is not unusual for us to lend an ear and help you deal with other life issues as you work on getting back on your feet after an accident or messy divorce.
Responding quickly We have a firm policy to respond to all calls and to be accessible when you have a question. We work hard to accommodate your needs.
Collaborating for your benefit Our team approach means we work together to ensure you have an attorney advocate on your side at all times, even if your regular attorney has a scheduling conflict.
Keeping costs down We understand that legal costs can be difficult to manage, so we strive to offer high-quality services at reasonable prices, with options designed to keep your costs down.
Dedication, value and quality for clients throughout West Central Minnesota
With a history as long as ours, there aren't many legal scenarios we haven't seen before. But we also realize this may be the first time in your life you've needed a lawyer. Trust us to handle your case with the knowledge and skill derived from more than 130 years' combined experience. We can help you with an array of legal issues, including:
Call us for assistance with virtually any legal issue
Anderson Larson provides unmatched dedication to giving you quality legal services and value for your money. Our office is across the street from Rice Memorial Hospital, with on-street parking and a nearby public transit stop. Initial consultations for workers' comp and personal injury cases are free, and representation for these cases is provided on contingency. Call 320-235-4313 today for an appointment to fit your schedule or contact us online.
Areas of Practice
Meet the Lawyers